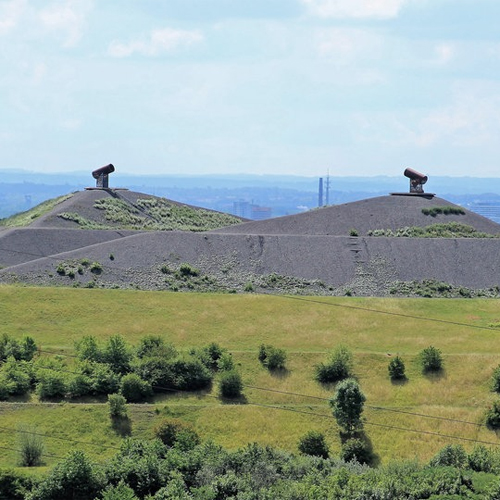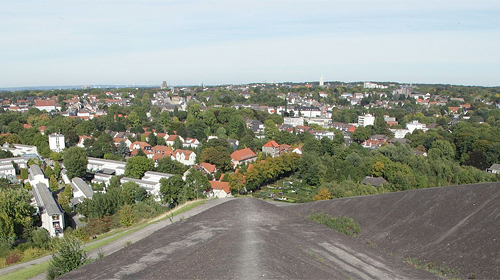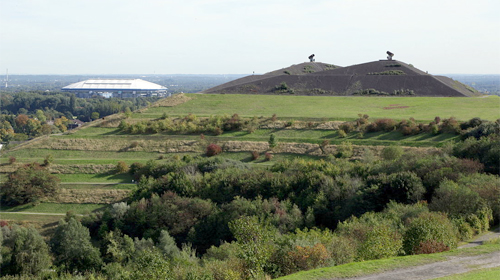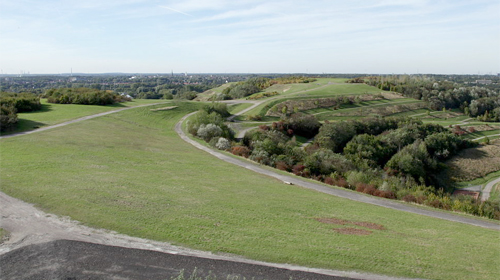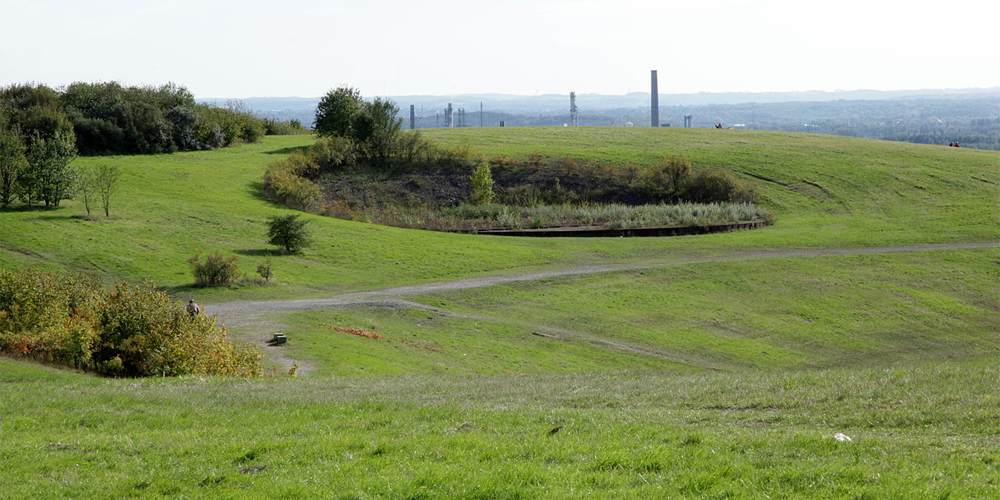 HALDE RUNGENBERG | RUHRPOTT IN 3D
The Rungenberg slagheap is 110 m above sea level and one of the most beautiful slagheaps in the Ruhr area. It was created by mining the Hugo colliery. The overburden is still one of the burning slagheaps, is mostly greened again, partly wooded and invites for a walk.
As with many other slagheaps in the Ruhr area, part of the Rungenberg slagheap has been laid out as a landmark: from the Schüngelberg settlement, a staircase of about 300 steps leads up to a double pyramid made from an abaum. At night, the beams of two rusty spotlights visually complement the cut pyramid. The thick, rusted steel tubes, which are directed towards the sky like oversized telescopes, form the light installation "Nachtzeichen" (Night Signs) by Hermann EsRichter from Oberhausen and Klaus Noculak from Berlin, who won the competition for the artistic design of the slag heap in 1992.
They also created the "rail plateau," a ground relief in the depression on the slag heap in the axle extension of the two spotlight locations. An elliptical area of 33 by 41 meters was created with 5,500 meters of railroad tracks.
Entry via Holthauser Str. house number 46| Gelsenkirchen
Journey by public transport
from Essen (HBF): take the U11 from Essen main station to HS Schloss Horst. Change there to streetcar 301 in the direction of Gelsenkirchen HBF to the Hugostr. stop. From there change to the other side of the street and walk along the footpath (next to the parking lot of a department store) into Hugostraße. Follow the street for about 5 min until you see the stairs to the top. there 1 min walk. . From Gelsenkirchen (HBF): take streetcar 301 to Hugostr. stop. From there walk in the direction of travel to Hugostr. (footpath via parking lot of a department store). Follow Hugostr. for about 5 minutes until you see the stairs to the top.
Sights in the neighborhood
Besides the visit of the slagheap we recommend e recommend a visit:
Zechensiedlung Schüngelberg | Arena Auf Schalke (Veltins Arena) | Schloss Berge
Restaurants