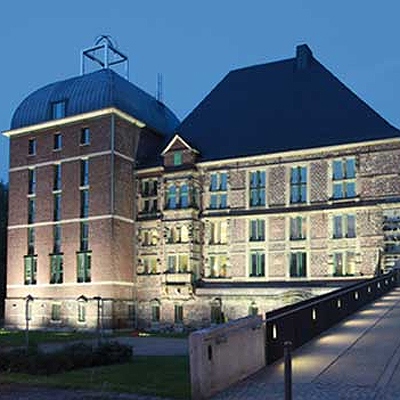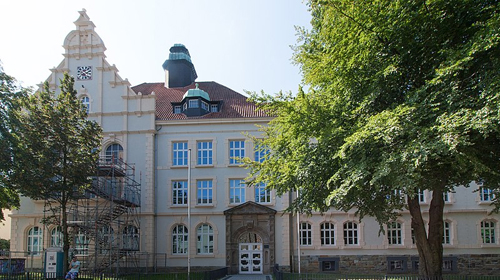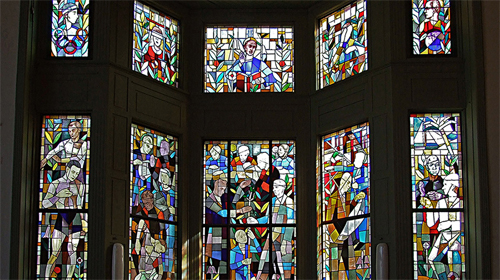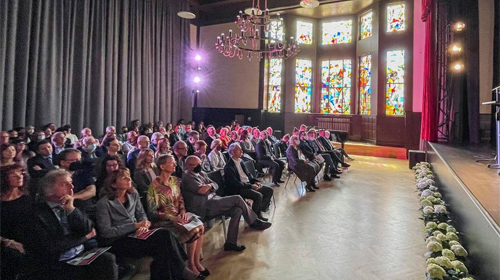 AULA LEIBNIZ GYMNASIUM | DER "KEKSBUNKER"
The origins of Leibniz-Gymnasium date back to 1858, but it was not until 1904 that the school was granted the status of a higher educational institution with the possibility of obtaining the Abitur. Started in 1906, the building on Breddestraße was completed as early as 1908. A particular jewel of the Gymnasium is the assembly hall. An extraordinary chandelier and the colorful bay window immediately catch the eye. The "Aulafenster" depicts the art teacher and designer of the window at the time, as well as his students, and shows the college.
COME WITHN PUBLIC TRANSPORT!
from Essen (HBF): take the U11 from Essen main station to HS Schloss Horst. From there take tram 301 to Goldbergplatz. On foot 2 minutes in southern direction From Gelsenkirchen (HBF): take streetcar 302 in direction Buer-Rathaus to terminal stop. Walk 200m in the opposite direction, then 2 minutes in a southerly direction. From Dorsten (BF): SB28 Buer-Rathaus. On foot 200m in via Goldbergplatz, then 2 minutes in southern direction.